⇦ 1906
|
1908 ⇨
---
Model "A" fixed Tonneau
One of the first two body styles of the Motorcar Company, the Model "A" survived through multiple "seasons" (model years).
Price $1,350
Weight 1600 lbs
Color Brewster green
1907 Model A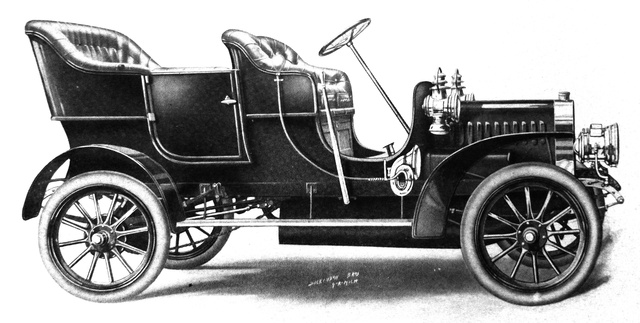 1907 Model C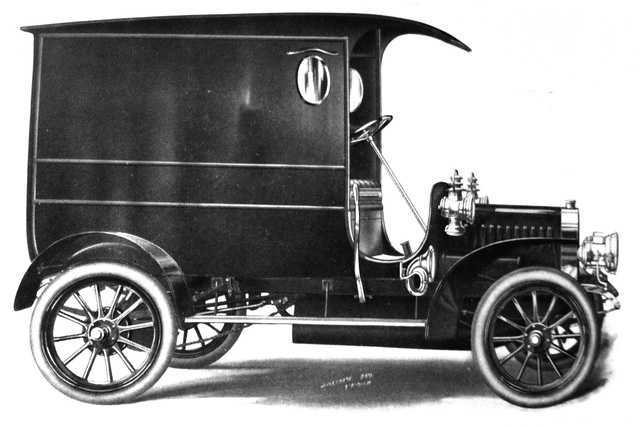 1907 Model D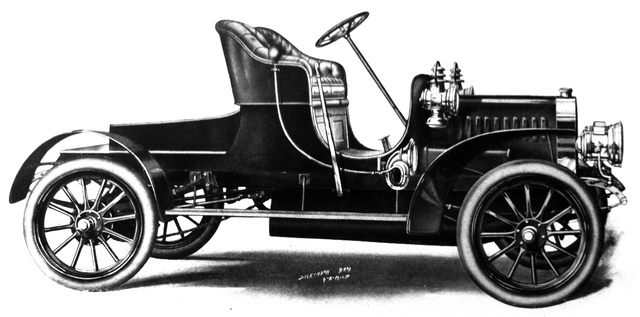 1907 Model E - Folding Tonneau Closed and Open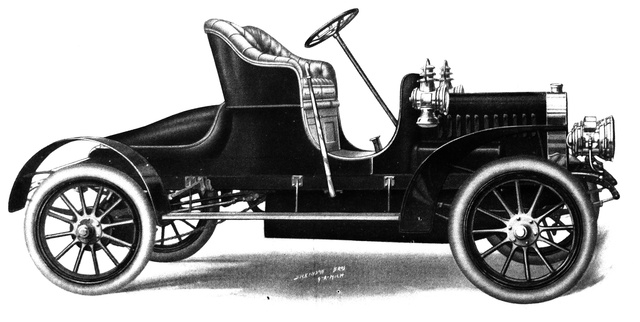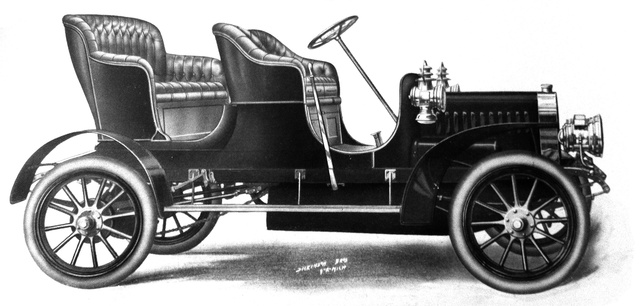 1907 Model F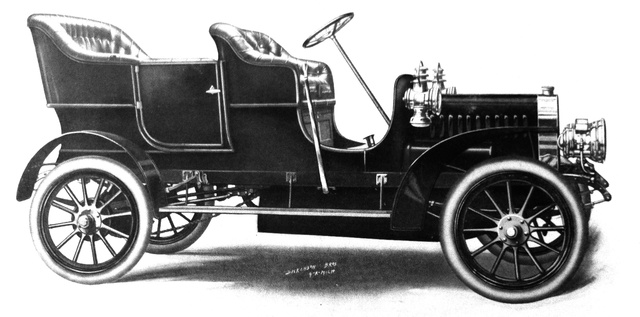 Chassis Specifications (all models):
Motor 214 ci – 5-1/2 in Bore, 4-1/2 in Stroke 2 cylinder opposed, 20-24 HP
Bearings: 1-7/8" dia, Rear - 5 inches long, crank pin – 2-1/8, front – 4 inches; main bearing babbitt poured in crankcase; rod bearings are bronze shells with Babbitt linings.
Valves: New rocker arm design
Water Cooled – Thermo-gravity with Honeycomb radiator
Ignition - Jump spark
Lubrication – Lavigne Lubricator positive oil pumps (6 – two for the bearings, two for the cylinders and two for the crankcase)
Forged Crankshaft
Flywheel with fan blades
Wheelbase/Track 96 in Wheelbase
Steering Worm and Segment
Tires: 30 x 3-1/2
Springs Semi-elliptic, 2 in wide – Front: 40 in long; Rear: 48 in long
Drive Single chain
Axles Tubular – Rear: live axle, 1-1/4 dia with Hyatt roller bearings and Brown-Lipe differential, end thrust carried by ball bearings; Front: large ball bearings in wheel hubs
Frame 3-1/2 in pressed steel
Brakes Two: Friction transmission reverse and Raymond (band) on rear hub operated by foot lever ("emergency only")
Gasolene Tank 15 gallons
Standard Equipment 3 oil lamps, tube horn, mats, tire repair kit, dry cell batteries, battery box of pressed steel with tray for small tools on running board. All bodies ironed for tops. Only standard American tires are used.
Extra Equipment Special colors, tops of all styles, gas head lamps, gas tanks or generators, extra tires with covers and holders, speedometers, odometers, clocks, etc.
Guarantee 90 day guarantee
Notes
Differences from 1906:
Bore increased from 5 in to 5-1/2 in

HP rating changed from 20 HP to 20-24 HP

Valve mechanism now has rocker arms

Honeycomb instead of flat tube radiator

Fan blades in flywheel (?)

Wheelbase and front and rear spring lengths all increased by 2 in

Frame increased in depth from 3 in to 3-1/2 in

Battery box/storage moved to running board

"Carter" no longer on running board

Model "B" dropped, Models "D", "E" and "F" added

Straight speed lever

No longer has separate metal dash

Radiator & hood different with louvers the whole length

Has horn

Different lamps

Has transmission cover

Brake rods different
---
⇦ 1906
|
1908 ⇨
This site is a work-in-progress to document Cartercar history and production. It will be improved as time and information permit.
Have a Cartercar? Have a question or comment? - Send mail to
cars @ cartercar.org
Copyright 2010-2023 cartercar.org - all rights reserved.